Made in Australia means higher quality and longer lasting outdoor building signs that you clean, wont fade and last! All our craftspeople and design team are committed to absolute material quality, design, workmanship and value for our clients. The unique metal letter design below shows how complex work can be quickly achieved by our team. Made in Australia.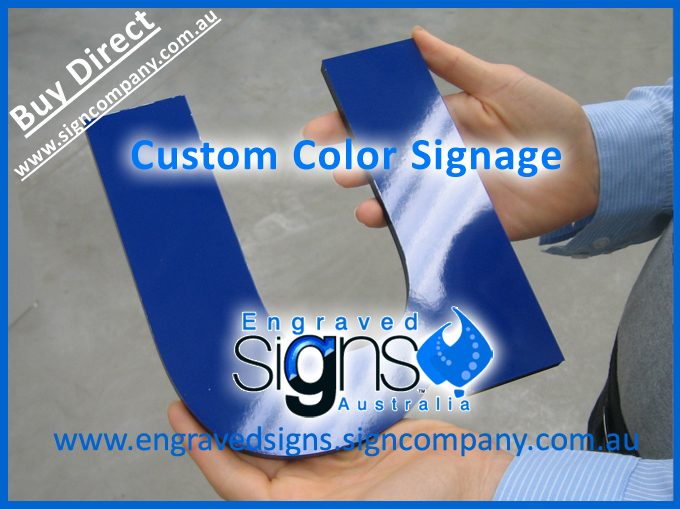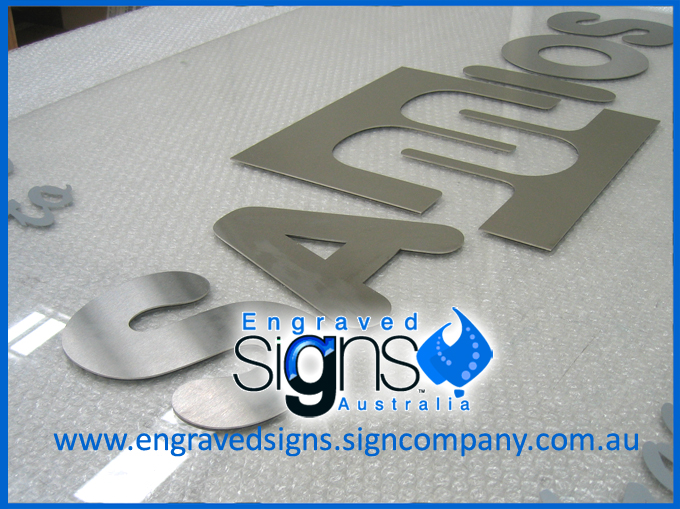 Permanent metal signage with colorful letters placed on the smooth surface.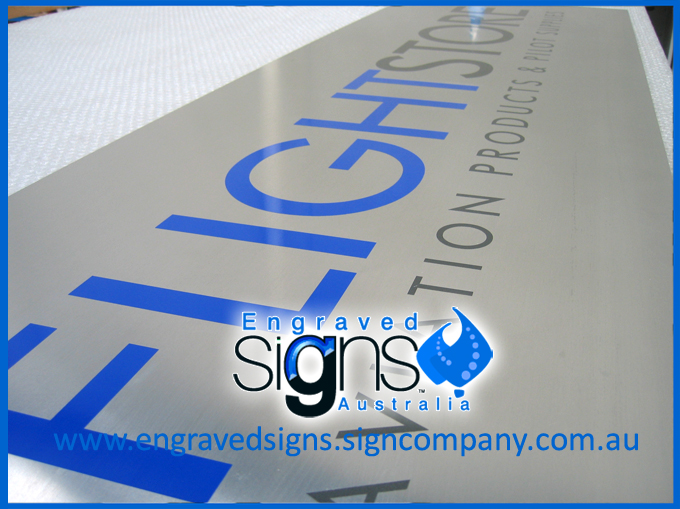 Occassionally, a flat surface sign is required by building designers for their signage. Here, the metal sign incorporates outdoor vinyl lettering applied directly to the surface. This long lasting UV protected sign lowers costs when large work is required by the designer.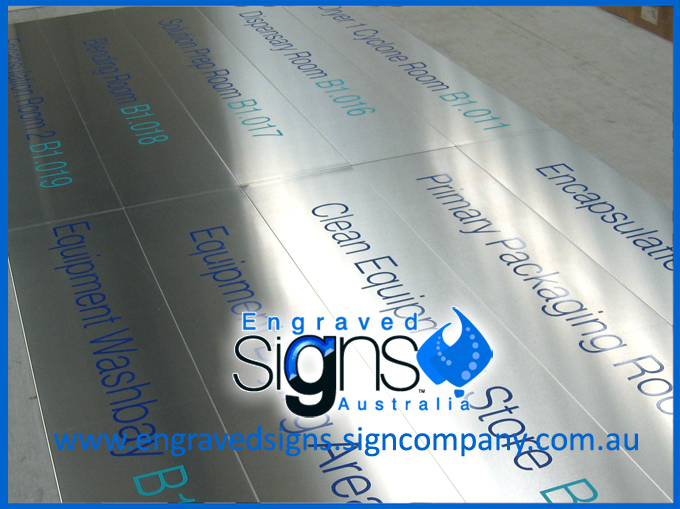 Hospital door signs, City office buildings, sport pavillions, corridor signage, identification and lots more architectural signage unique and standard. Hospital corridor room identification signage for overhead door way and fitted to wall or door sign position.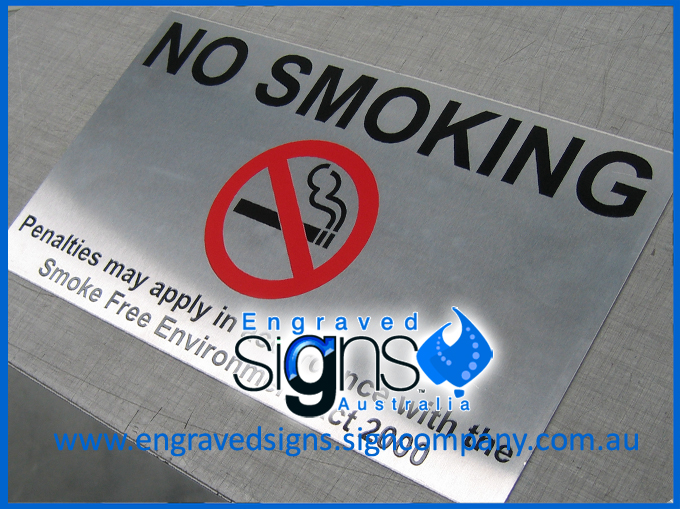 Reduce vandalism with an Anti Vandal No Smoking Sign engraved and color filled. This sign can be harshly cleaned and recolored if a vandal attempts to destroy.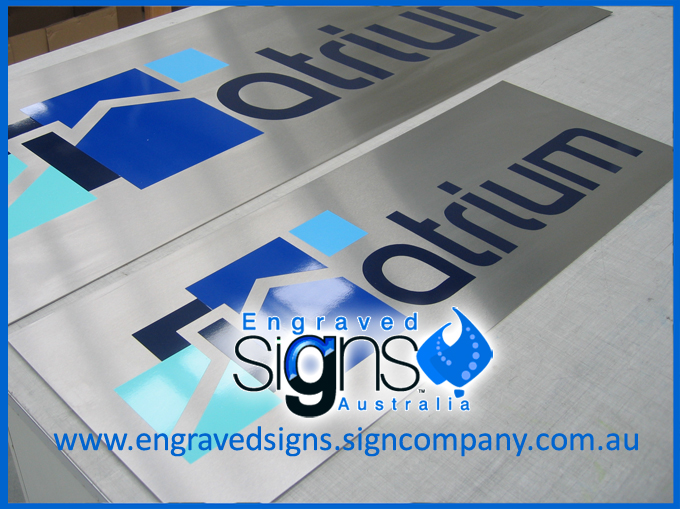 Metal signs with vinyl applied for the colored lettering and sign logo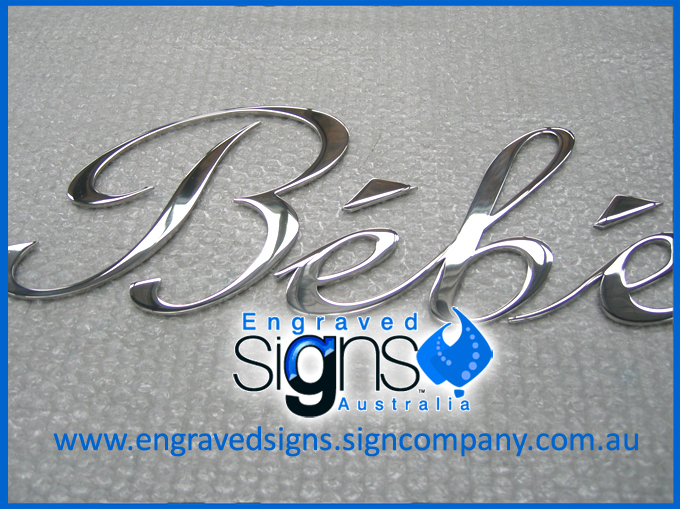 Polished metal letters. The polished metal letters above are laser cut then buffed to a smooth finish. The second stage is to 'chrome' plate with a secondary polishing and cleaning. Installation of these letters is typically with an epoxy glue. You can buy directly from this website here.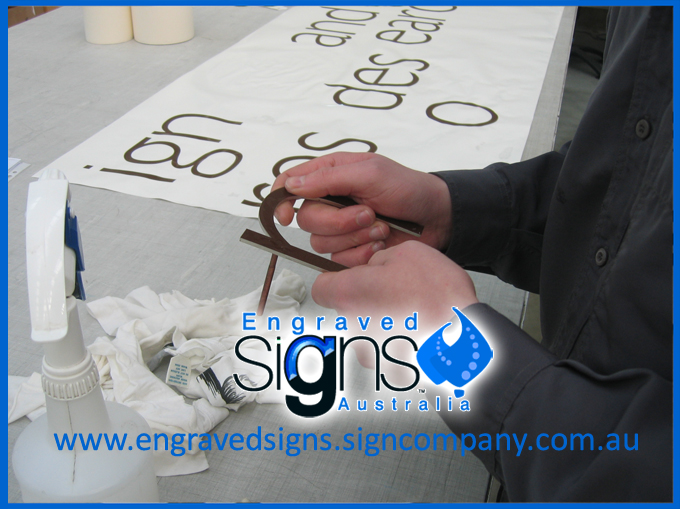 Another popular sign making technique is to laser cut the font, weld threaded rods to the back (installation hole with glue(raised)) the overlay a color face to the metal letter. It is a very effective way to make sign cheaply that last a long time. Here the man is holding a brown metal letter and applying color.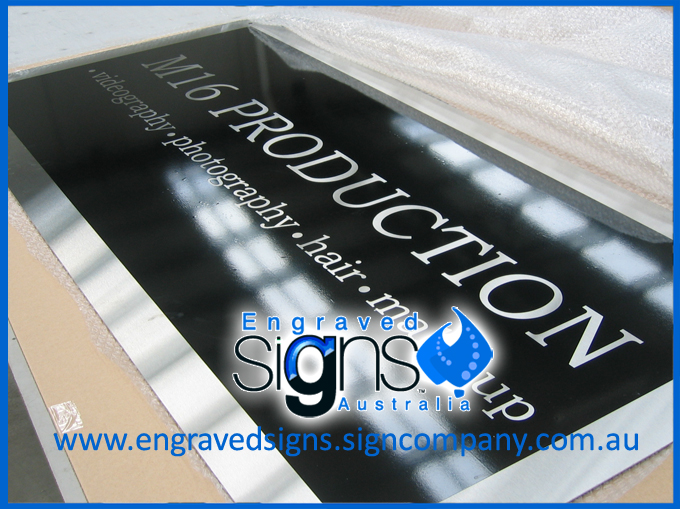 Here, the metal sign is overlaid with a vinyl surface and reverse cutting. The lettering is weeded away from the surface leaving the metal shining through. A popular technique and it looks fantastic.
Picture shows 'COUNTERSUNK' holes on signs. Countersinking each hole allows the screw to be flush with the surface providing a better and safer install. Also looks better.
Countersinking is only available on certain materials and requires a third process. Please let the team know pre order of any special instructions. We also recommend that you allow 2mm+/- oversized holes during manufacture to give tolerance for installing your new sign LEVEL. This small oversizing will allow adjustment of position.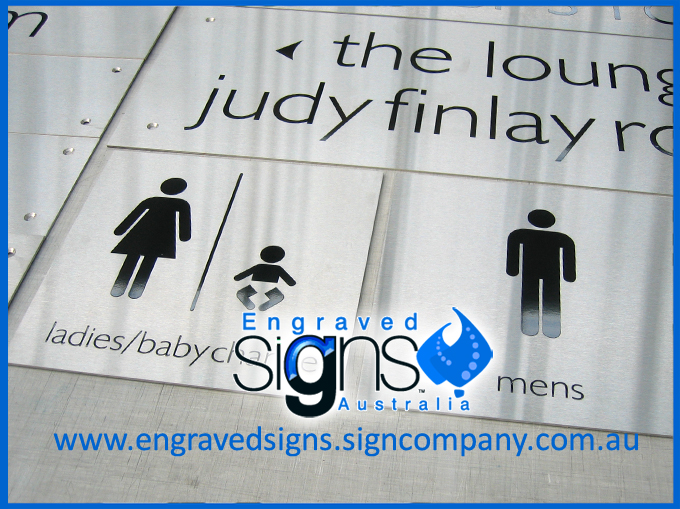 Engraved and Countersunk signs. Various install techniques can be used when making your signs and we suggest forwarding a plan or draft of the signage requirements document or tender doc. The team can quickly provide a range of install options and ways to supply your new signage. Ladies / Babychange and Mens special door sign used above doorway. Not Tactile but used above door or corridor.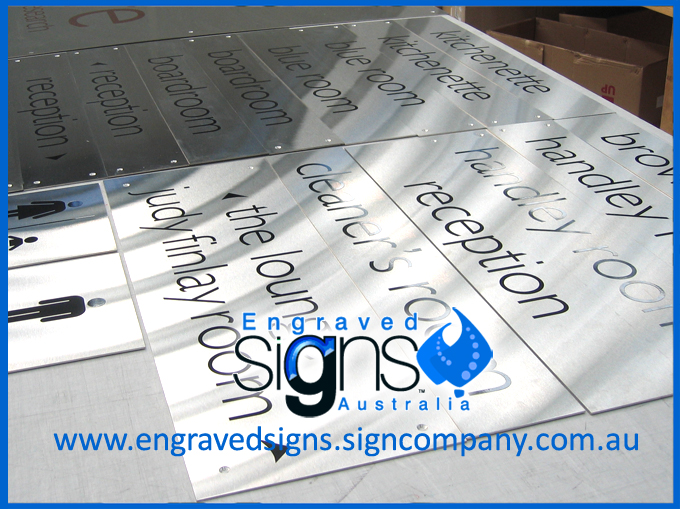 Group of Metal Signs - Directional and Wayfinding with special font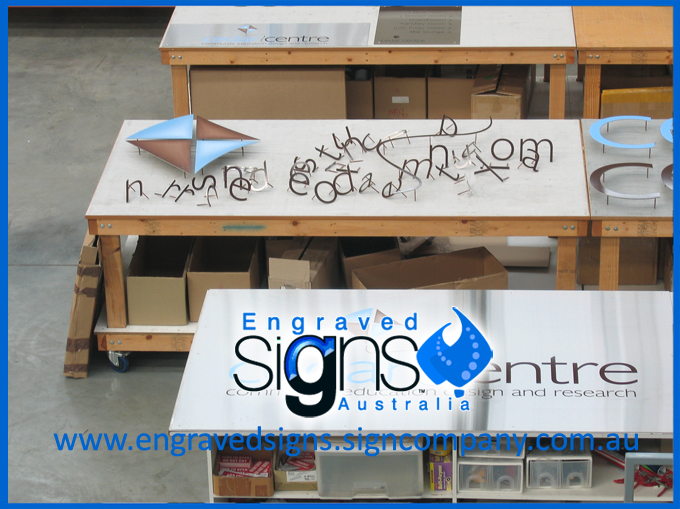 Car Parking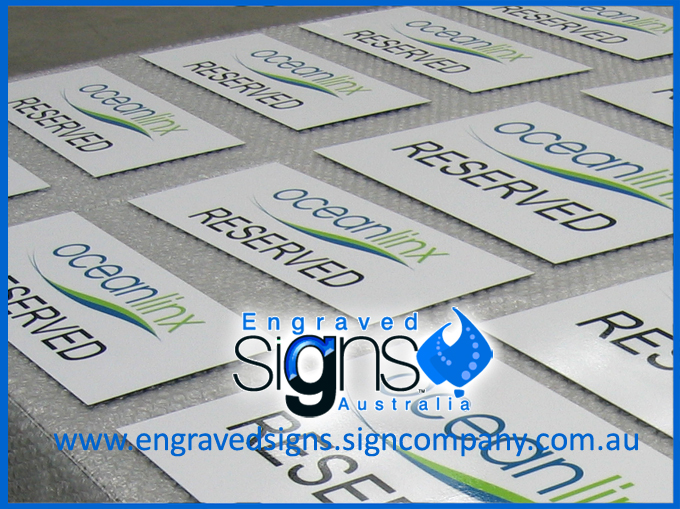 Door Signs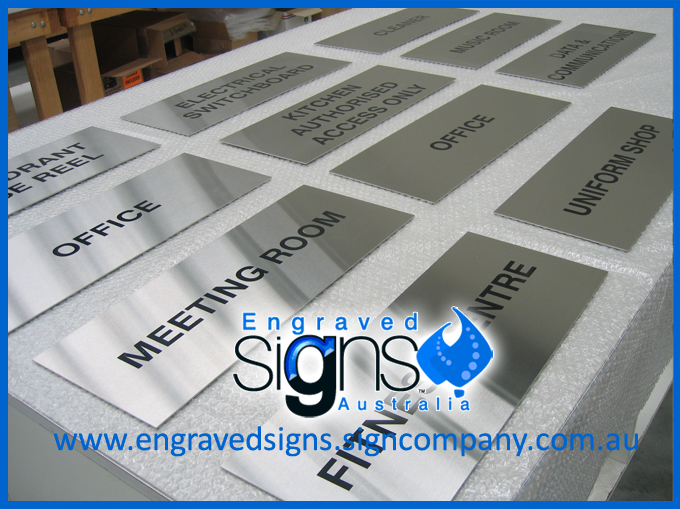 Various Door Signs. Fitness Centre, Meeting Room, Uniform Shop, Data & Communications, Music Room, Cleaner etc.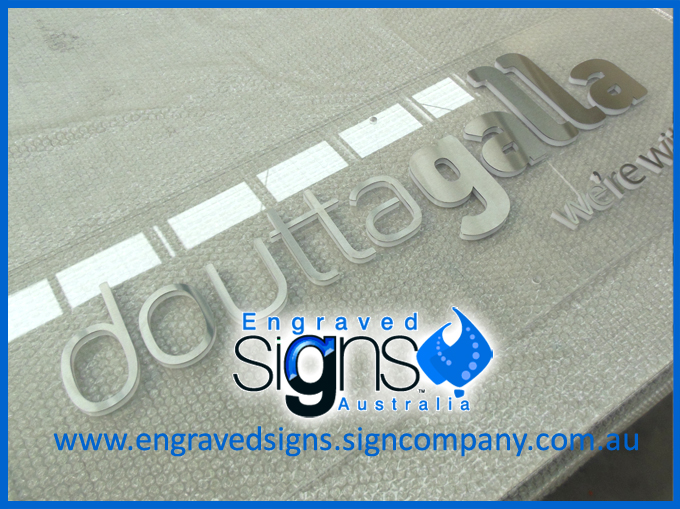 Raised letters look amazing when made in metal with a translucent or white plastic 'raiser'.
This image shows the four signs being made, after cutting and glueing, each individual letter is carefully placed over a template measurement setting the style in place. The plastic on plastic is further adhered onto the clear sign panel.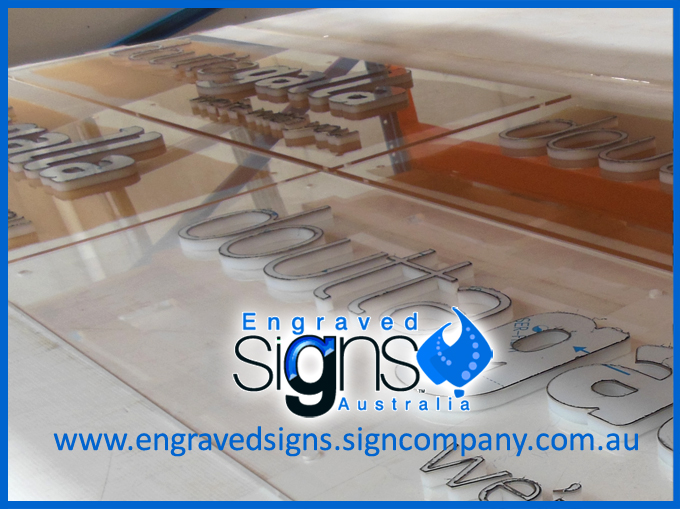 Note how the metal letters keep the protection cover on until the last cleaning stage. Occassionally, we will supply you with a finished sign with this cover on until you fit to the wall etc.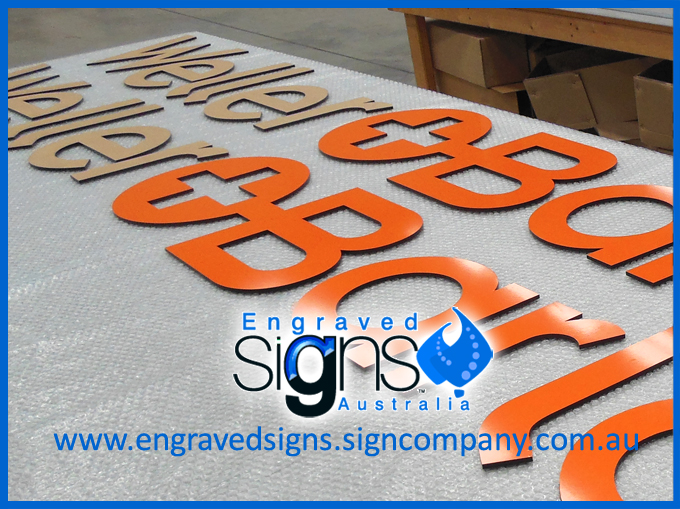 Processing signage starts with high quality sign making supplies and materials. Each customer plan is different so our company places great interest in making signs with the correct techniques and 'final image' in mind.
To quote signs please call our personell at anytime.
Clear sign panels with normal vinyl lettering always looks good.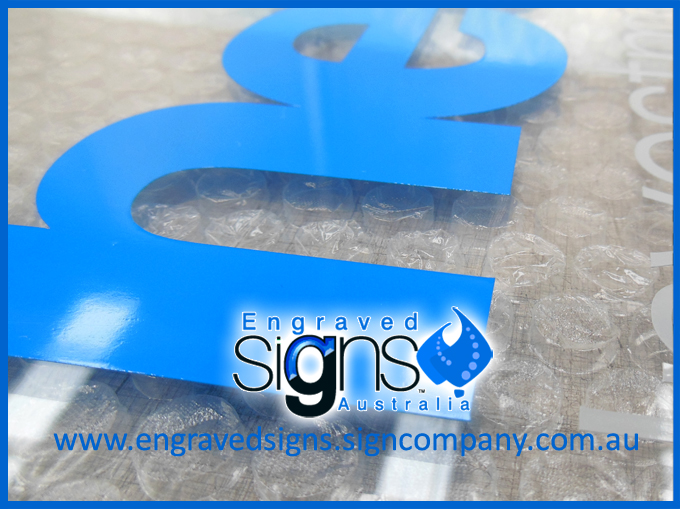 Rival aluminium